Brass Material Pop Up Floor Socket Outlet with American Socket RJ11
Item# DCT-628/GB
The manufacturer of floor sockets and tabletop sockets for more than 20years, OEM for Siemens, LEW, Leviton, etc.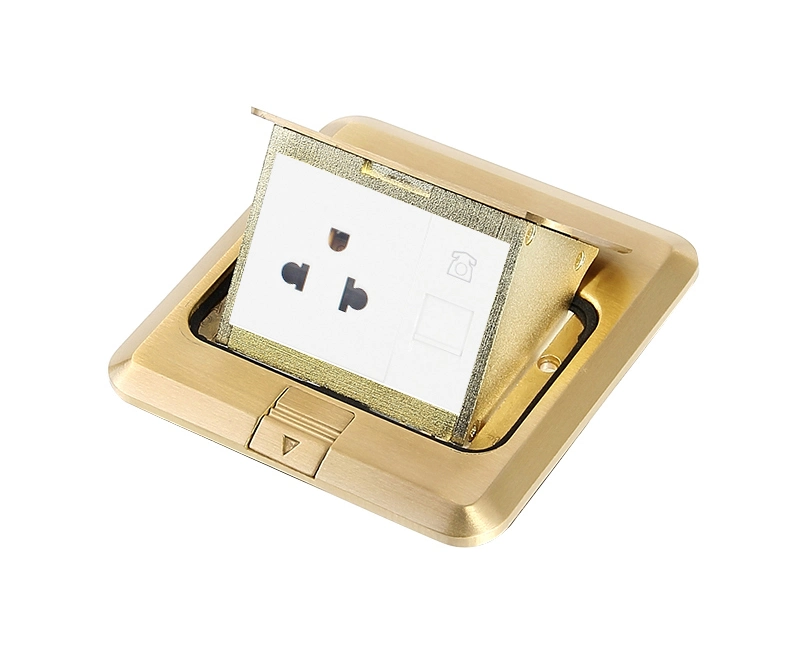 Product Name

Pop Up Type Floor Socket Box

Interface Size

15A US Socket and

RJ11 Telephone Data

Panel Size

120×120mm

Panel Material

Brass alloy

Finishing

Wire drawing / Polishing / Spray painting

Base Box Size
100×100×55mm
(Supply complete with Temporary Plastic
cover plate for box)
Base Box Material

Steel + Zinc plated

Open and Close Life

100,000 Times+

Open Style
Normal Pop Up (Fast),
Slow Pop Up
Product Accessories

Base box, Screws
POP- UP
Introduction
Features:
- Pops out from the floor to provide a convenient power outlet.
- When do not needed, can be stored flush with the floor to offer no troublesome hindrance.
- Rubber seal keeps out water and floor wax.

Application:
- Suitable for offices, shops, Department stores, Bank IT & Communication area and homes as floor outlets.

SLOW UP TYPE
Floor Sockets - Outlet
- Slow up "soft & silent" with protected force-down locking.
- Smooth "hair-line" finish & scratch resistance cover.
- Tough Brass alloy / Stainless steel / Aluminum alloy material body.
- Dust & Water protected gasket (IP44)
- Supplied with Steel + Zinc plated metal square box. (100×100×55mm)
- Suits 3 modules - Sockets, Network, Telephone, USB charger, HDMI & other mechanisms.