10A Type 1 Portable EV Mode 2 Charger For Electric Vehicle Charging Cable BS Plug
SAE J1772 2009 (Type 1) North American standard
IEC 62196-2 (Mennekes, Type 2) EU European standard
IEC 61851-1:2017 Electric Vehicle Conductive Charging System (2017)
IEC 62752:2016 IC-CPD EVSE Charging Standard
Product specification
Mode2 (level 2) EV Charging Cable
Model: BS-PCD-019
Connector: Type1 to BS
Certificate: TUV, CE, UL
Input/Output: 230V AC
Frequency: 50Hz
Current: 10A
Power: 3.6kw
Length: 5m (16.4ft)
Color: black
Operating temperature: -25ºC to +55ºC
IP Class: IP66
Cable: Straight
Key features
-High Compatibility
Fitting all EVs with Type 1 inlet, 100% correctly and effectively
-Quick & Easy Operation
Simply connect the plug with the EV's inlet, and then the charger will automatically detect the connection status and handshaking protocol automatically, and starts charging
-LED Display
Shows charging status via screen
-Safety Assurance
Already passed all tests of TUV & UL. There are all kinds of protective measures to ensure the safety of every user
-Intelligent Chip
Automatically repairing minor charging problems while charging. The lights would blink in different ways to indicate different problems which will help you to know the charging situation right now
-Rugged Enclosure
With brand-new design and solidly built high-strength ABS plastic, unsurpassed quality will be presented, even to bear the weight of a car, which was already been tested
-IP66
Its unique waterproof design ensures you can use it anytime with confidence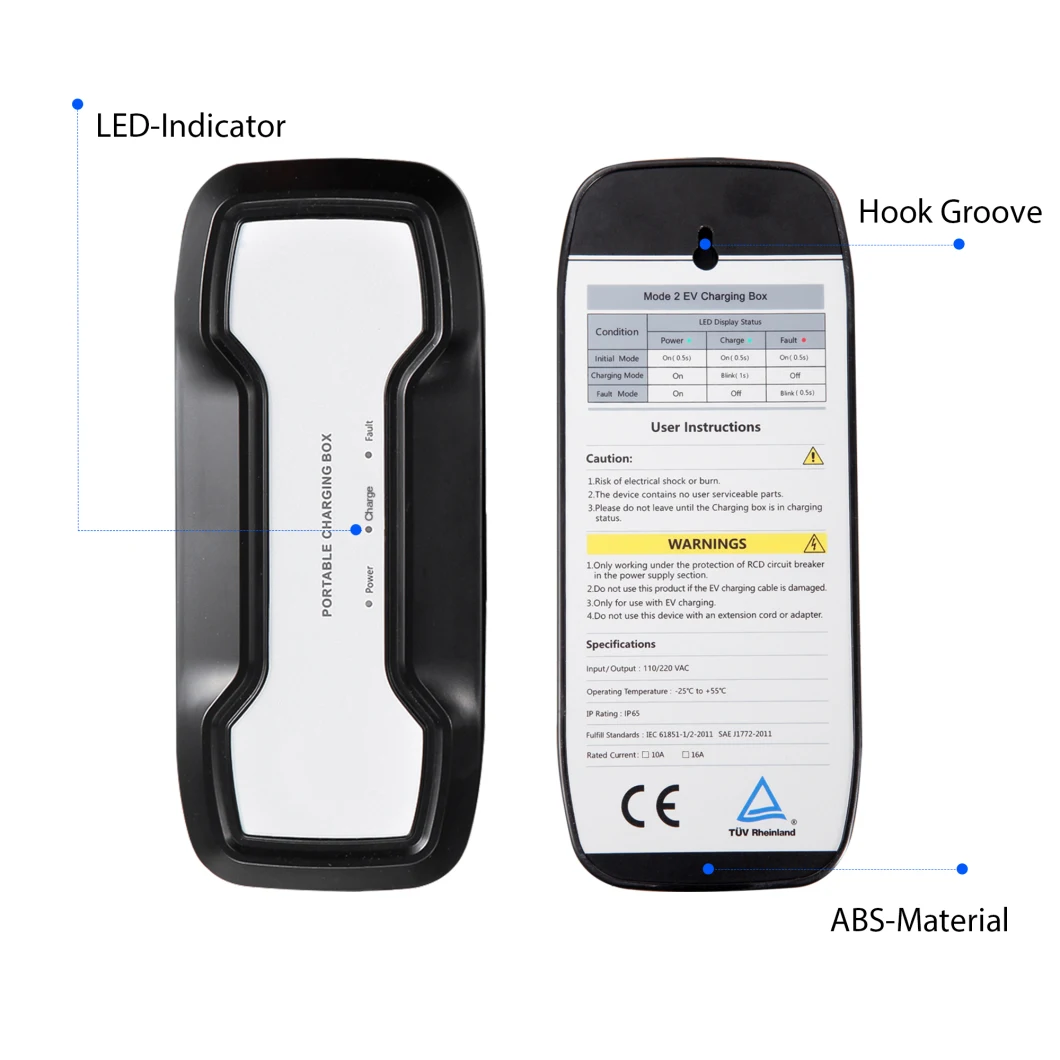 How to use
A. How to start charging
1. Firmly insert the power plug into the outlet on the wall. Ensure the outlet with a rated current of 16A
2. Insert the Type 1 plug into the inlet on the vehicle
3.The device starts charging automatically after the green charging LED begins to keep blinking

B. How to stop charging
1. Disconnect the power plug from the outlet
2. Disconnect the Type 1 plug from the vehicle inlet
3. Put the charger away

C. How to switch the current
1.Press the button to switch the current between 32A and 40A before inserting the charging plug (car side)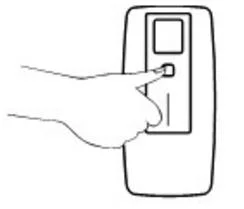 D. How to know the charging status

Good to know
-This is a Mode 2 EV charging cable special for EVs with Type 1 inlets. Don't use it for EVs with other types of inlets
-This cable has precise internal structure. Any questions, please contact our Customer Service Manager at the first time. Please do not take it apart without any professional technical support
-Don't use it in water
-The product is only for EV charging. Please don't use it in any other occasions, including hauling, binding and so on
Package measurement and weight
Item No: BS-PCD-019
Package: 1 carton inner box
Packing size: 50*40*10(cm) /19.7*15.7*3.9(in)
Weight: 3kg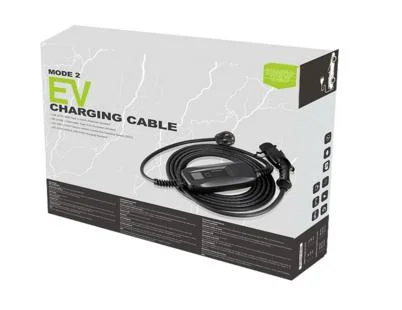 Product professional data: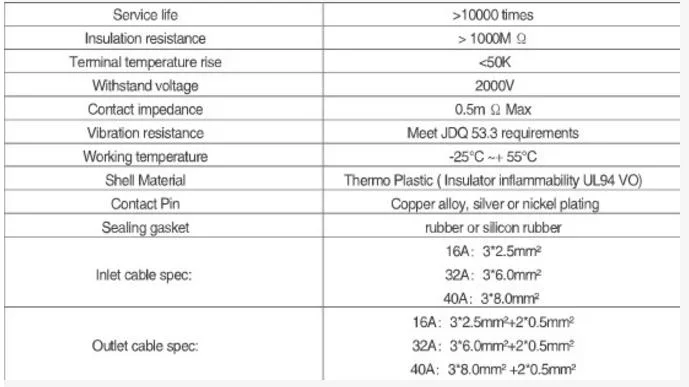 Parts can be customized
Box: can print logos on it
Plug: can print logos and choose colors
Cable: can print words or logos and choose colors
We have abundant experience of EV charging products. Our products have been successfully applied in most of countries all over the world. From cold Norway to hot Saudi Arabia, you can see form of our products. We provide the most professional products and the best quality service to each of our customers.
We pay more attention to handle the detailed part of our products, hope to provide with our customers safety, difficult to damage and convenient operation in use.
Company Information
-ABOUT BESEN GROUP--
As one of the largest manufacturers of charging equipment and components in China, BESEN possesses 12 years of expertise in the field of electric vehicle charging. We have participated in setting up the EV Charging Standard of China (GB). We are the supplier of State Grid Corporation of China. We have cooperated with many EV Manufacturers and Distributors in Europe and US.
All of our charging connectors has obtained CE, TUV and UL certifications. From cold Norway to hot Saudi Arabia, from Thailand whose EV market is just getting started to America whose EV market are tending to be mature, our products are known by more and more customers.
We believe in that diligent service is the soul of an outstanding company. No matter if you are our regular customers or new customers who just find us in the first time, any questions of you will be replied within the shortest time. And we have conscientious after-sale services, any problems of products will be followed up responsibly by our professionals until be solved perfectly.
We would like to show our honesty, top quality, competitive prices and high efficiency to establish business relationships with you. Our goal is to provide not only products, but also a complete solution including product design, tooling, fabrication and service to our customers to achieve their upmost satisfaction.

Welcome to walk into BESEN : )
--OUR MAIN PRODUCTS--
BESEN deliver the most innovative, safest, and smartest electric vehicle components, including EV plugs, sockets, mode 2 cables, mode 3 cables, and charging stations to our customers from all over the world.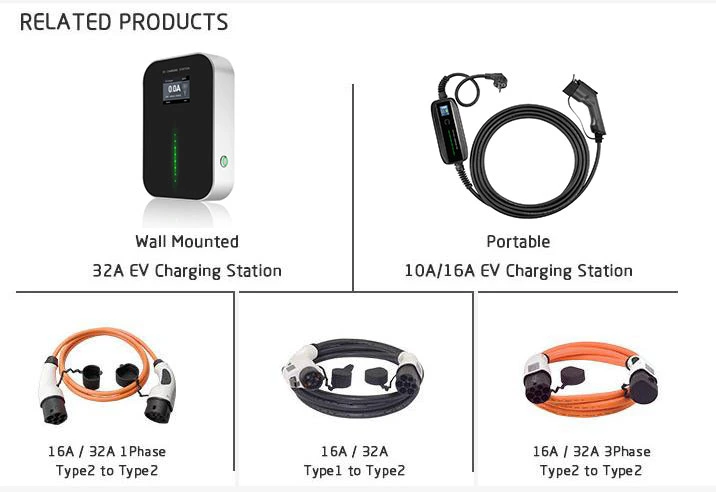 --CERTIFICATE--
Our EV products all have CE, TUV, UL certifications. All our products have to pass strict inspections and repeated texts before they leave factory. Please contact us for detailed certificates.